Collections Part II
on Wednesday 18 September 2019 at 7:00 pm
Program:
7:00 pm opening of the exhibition
8:00-8:25 introduction to the subject of the exhibition – a lecture by Jan Michalski.
We warmly welcome you to Part Two of the presentation of works by Andrzej Wróblewski (1927-1957) collected by Zderzak Gallery. In this autumn edition we will be showcasing figurative works: pictures, gouaches, drawings, and photographs. The theme of the exhibition is The Trouble with Man.
The central wall of the gallery will hold "Cosmic Man" in place of "Cosmic Fish." We will see "Man" dancing in pain – a great sketch for "Execution VIII." We shall also see the legendary "Golden Age of Humanity" with its levitating ryshi.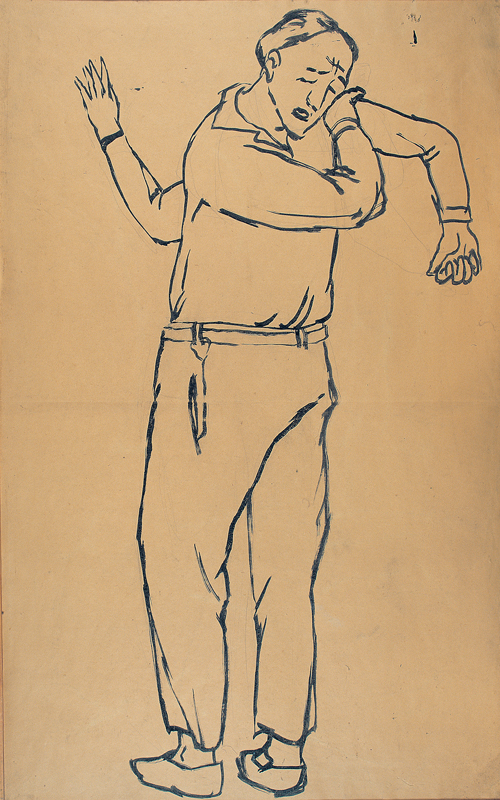 The postwar image of man and personhood in Wróblewski's art was created in hardship and suffering. Man sometimes undergoes total destruction, sometimes there are images of ancient gods standing behind him – Cybele, Isis, Shiva, Buddha, Bodhisattva, or Avalokiteśvara. The young artist's imagination turned toward the great religious system of humanity and contemporaneous soteriologies, seeking a response to fundamental questions: the link between body and soul and the central position of man in the cosmos. What is left to the modern man after having been so diminished? Has he lost his link to the Mountain of the Double Horizon? Wróblewski's art depicting the drama of the modern man is filled with visions, dreams, and transgressions. It tells us something vital, which makes it speak to generation after generation. "Artists are those who possess, often unconsciously, the gifts of having visions," said Mickiewicz. The Zderzak exhibition is a footnote to the anthropology of Andrzej Wróblewski's work.
The third and final instalment of the exhibition – "Andrzej Wróblewski: Photography" – will open on Thursday 12 December 2019.